July 29, 2017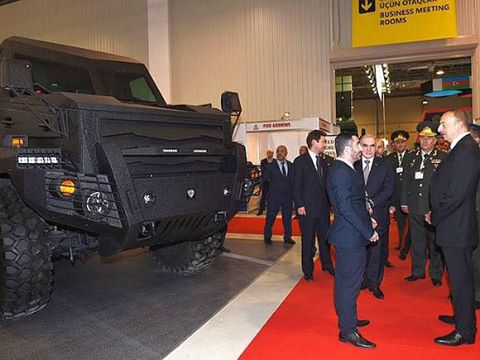 On July 26, 2017, a letter was sent to Prime Minister Justin Trudeau to protest the approval by Global Affairs Canada of the sale of Canadian-made military vehicles to Azerbaijan.
The Canadian-Armenian Political Affairs Committee of AGBU has, in recent months, raised this outrageous issue to Global Affairs Canada. Contrary to core Canadian values, the government of Canada has let this scandalous deal go through with one of the most corrupt and human rights violating countries in the world.
——
The Right Honorable Justin Trudeau, P.C., M.P.
Prime Minister of Canada
80, Wellington Street
Ottawa, (Ontario)
KIA 0A2
Dear Prime Minister,
Canadians of Armenian descent and human rights activists throughout the country are dismayed by Global Affairs Canada's recent approval of the export of Canadian-made armoured personnel carriers (produced by INKAS Armored Vehicle Manufacturing) to Azerbaijan.
The Republic of Azerbaijan has a long history of human rights abuses and violence, and is known to frequently arrest and torture journalists. Its practices are regularly denounced by Amnesty International and Human Rights Watch, which have accused Azerbaijan of a "thorough crackdown on dissenting voices".
Furthermore, Azerbaijan continuously threatens the fragile peace along the Nagorno-Karabakh border, with its top government officials – including despotic president Ilham Aliyev – publicly calling for the annihilation of Armenians. In April of 2016, Azerbaijan provoked conflict along the border and launched a large-scale four-day war. As demonstrated by its shelling of schools in Tavush-Armenia, Azerbaijan's army has a gruesome habit of targeting civilians. Recent statements from the leadership of INKAS also contain thinly-veiled references to Azerbaijan's desire to foster further violence and instability on its borders.
The decision to furnish arms to a country which regularly threatens peace in the region is one that violates all the principles that we as Canadians stand for, and which Global Affairs Canada seeks to promote in the world.
We urge you to take immediate action and reverse this decision. Canada's voice in the world must be one for peace and human rights, not for violence and oppression.
Chahé Tanachian, President
Canadian-Armenian Political Affairs Committee of AGBU