January 27, 2020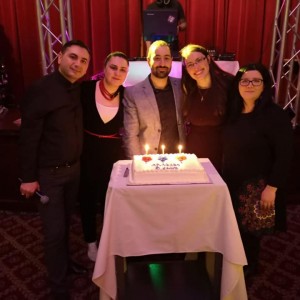 It has become a tradition for members of the AGBU Aragast group to celebrate Armenian Christmas and New Year together. This year was no exception. On January 11, 2020 around 200 guests gathered at the AGBU Dervishian Hall to party and share delicious food and drinks. January 2020 also marks the 3rd anniversary of the Aragast group, which was one more reason to celebrate.
Aragast's mission would not be complete and meaningful without a special gesture towards children in need in Armenia. Thanks to supporters and volunteers, the Aragast committee members raised funds to offer a Christmas party and gifts to kids with disabilities from the Marie Izmirlian childrens' home in Yerevan, along with their friends and families, who otherwise would not have the opportunity of going out and celebrating.
While leaving the orphanage to attend the Christmas event, kids were heard whispering to each other: "Are we really going to a restaurant today?". The success of this initiative-bond between the Montreal AGBU Aragast team and children in Armenia was very well received and brought even more donations, which are going to be used towards the next project. Stay tuned!!