June 29, 2022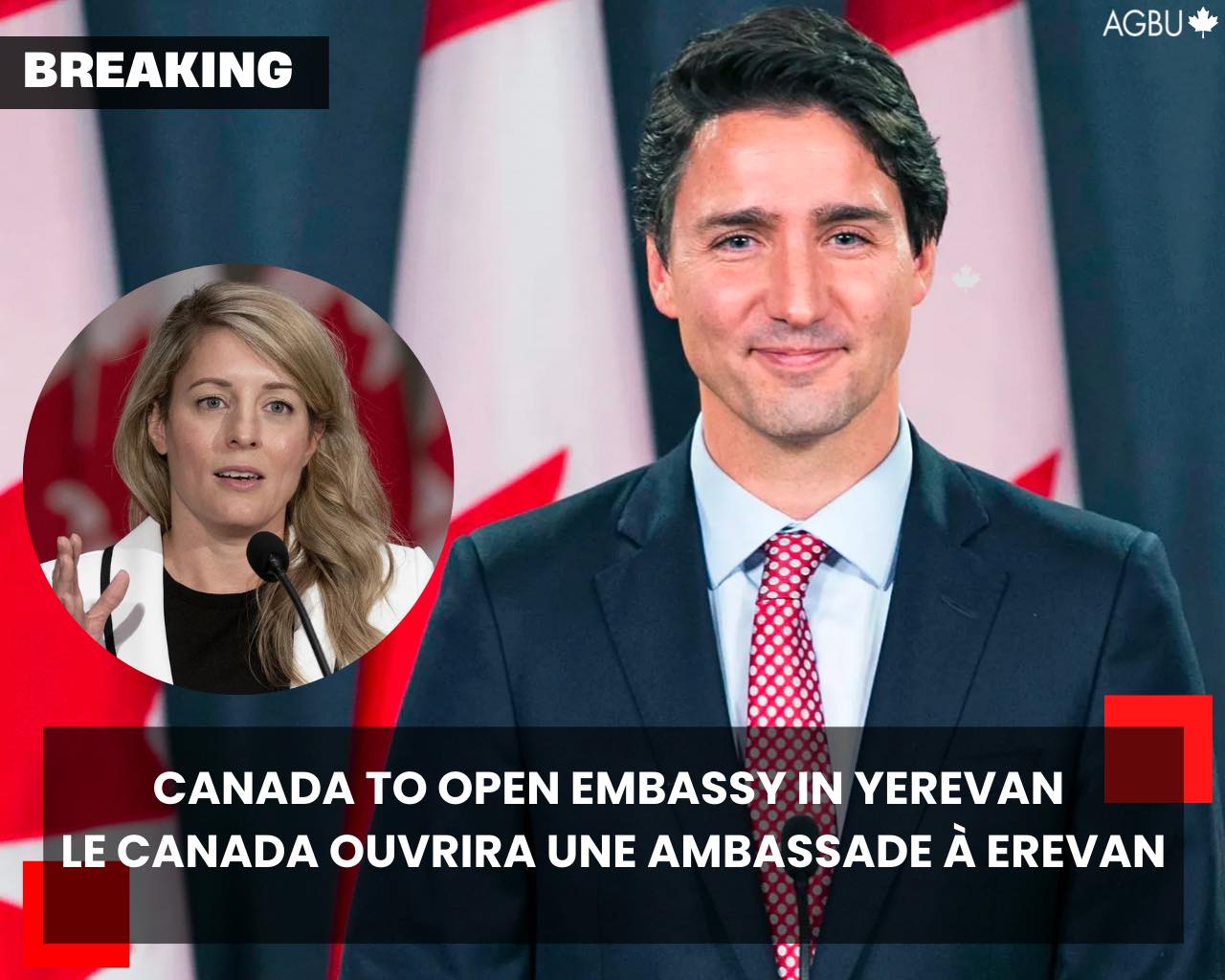 CANADA WILL OPEN EMBASSY IN YEREVAN
The Canadian government announced today that it will open an Embassy in Yerevan. The establishment of an Embassy in the capital of Armenia is a key milestone in the relations between the two friendly nations. This achievement has always been a top priority and a major request from the Canadian-Armenian community. Many activists throughout the years have constantly pushed for a Canadian Embassy as the most impactful initiative to boost bilateral relations between both countries. On this momenntous occasion, we congratulate all organizations that worked tirelessly towards this accomplishment.
On behalf of the entire community, we would like to commend Prime Minister Trudeau for this bold decision. This courageous undertaking is a clear indication of Canada's more and more robust support for Armenia and its emerging democracy. One of the key individuals that firmly believed and pushed for a strong Canadian presence in Armenia is Foreign Affairs Minister, the Hon. Mélanie Joly.
The community will always be grateful for her friendship and her resolve in helping Armenia prosper. Another crucial person that brought credibility to this cause is longtime Montreal MP and former Foreign Minister Stéphane Dion. His recent report as Special Envoy to Armenia strongly recommended the establishment of an Embassy in Yerevan. Our highest gratitude goes to M. Dion for his rigorous and extremely meaningful work. We must not forget former Foreign Minister Garneau who was the one that mandated Mr. Dion to prepare a report on how Canada can further support Armenian democracy.
With this historic decision, Canada-Armenia bilateral relations are on the path of sustainable growth and expansion. A Canadian Embassy in Yerevan will surely boost trade and significantly advance initiatives in many spheres like education, culture, democratic institutions and civic society.
AGBU is thrilled with this decision and remains ready to actively promote the advancement of relations between Canada and Armenia.
*******
LE CANADA OUVRIRA UNE AMBASSADE À EREVAN
Le gouvernement canadien a annoncé aujourd'hui qu'il ouvrira une ambassade à Erevan. L'ouverture d'une ambassade dans la capitale arménienne est une étape clé dans les relations entre les deux nations amies. Cette réalisation a toujours été une priorité première et une demande principale de la communauté canado-arménienne. De nombreux militants au fil des ans ont constamment réclamé une ambassade du Canada comme l'initiative la plus cruciale pour stimuler les relations bilatérales entre les deux pays. En cette occasion historique, nous félicitons toutes les organisations qui ont travaillé sans relâche pour arriver à cette réalisation.
Au nom de toute la communauté, nous tenons à remercier le premier ministre Trudeau pour cette décision audacieuse. Ce geste courageux est une indication claire du soutien de plus en plus solide du Canada à l'Arménie et à sa démocratie croissante. La ministre des Affaires étrangères Mélanie Joly est l'une des personnes clés qui a cru fermement à une forte présence canadienne en Arménie.
La communauté canado-arménienne sera toujours reconnaissante de son amitié et de sa détermination à aider l'Arménie à prospérer. Une autre personne cruciale qui a apporté de la crédibilité à cette cause est le député montréalais de longue date et ancien ministre des Affaires étrangères Stéphane Dion. Son récent rapport en tant qu'envoyé spécial en Arménie recommandait fortement l'établissement d'une ambassade à Erevan. Notre plus grande gratitude va à M. Dion pour son travail rigoureux et extrêmement significatif. Il ne faudrait pas oublier l'ancien ministre des Affaires étrangères Marc Garneau qui a mandaté M. Dion pour préparer un rapport sur les façons dont le Canada peut soutenir davantage la démocratie arménienne.
Grâce à cette décision historique, les relations bilatérales entre le Canada et l'Arménie sont sur la voie d'une croissance et d'une expansion durables. Une ambassade canadienne à Erevan stimulera sûrement le commerce et fera progresser de manière significative les initiatives dans de nombreux domaines comme l'éducation, la culture, les institutions démocratiques et la société civile.
L'UGAB est ravie de cette décision et reste prête à promouvoir activement l'avancement des relations entre deux pays géniaux, le Canada et l'Arménie.